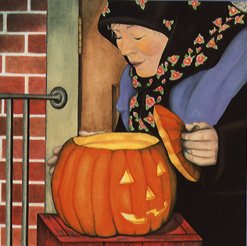 Illustration by Leane Morin
from Shy Mama's Halloween
(Tilbury House, 2000)
used by permission
Anne's first children's book, Shy Mama's Halloween tells the story of a Russian immigrant family's first experience of Halloween in the United States, their adopted country. Although most North American children take for granted wearing costumes and going from house to house trick-or-treating, Anya, Irina, Dasha, and Dimitrii have never known the magic of Halloween. For their mother, who is uncomfortable with America, this holiday becomes a courageous step into a new world. The oldest daughter, Anya says, "Here, in the darkness, surrounded by what seemed like hundreds of other children, we, too, were American. No one cared that our 'Thank you' was said with an accent. No one cared that our Mama, in her babushka, could speak only a few words of English. Halloween was our holiday, as much as anyone else's."


- Notable Social Studies Trade Book for Young People for 2001
- the McNaughton List
- Teachers' Choice 2002 Award, Learning Magazine