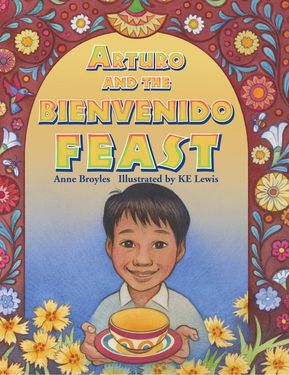 ARTURO AND THE BIENVENIDO FEAST

Arturo and his grandmother return in this charming bilingual sequel to Arturo and the Navidad Birds. This time Abue Rosa and Arturo are making a welcome dinner for Tia Ines' new fiancé. They plan a wonderful dinner to welcome him into the family withplantains, pollo, and pastel, but Abue Rosa has a headache and Arturo encourages her to take a nap. He decorates and sets the table, but what will happen when Abue Rosa doesn't wake up in time? With a bit of creativity, Arturo takes charge and creates a welcome feast like no other. Charming illustrations infused with the colors of the Southwest bring this touching story to life. A glossary provides explanations and pronunciations of key words.

​
· Side-by-side English and Spanish text
· Glossary and pronunciation guide provided
· Multigenerational themes
• Activity guide for teachers and parents


ARTURO AND THE BIENVENIDO FEAST
Author: Anne Broyles
Illustrator: K.E. Lewis
Translator: Maru Cortes

---
Recommended

For fans of the bilingual picture book Arturo and the Navidad Birds (Pelican, 2013), the delightful sequel has arrived. Arturo and his grandmother (Abue) are busy preparing a welcome feast for his aunt and her fiancé. Arturo writes a menu and helps his grandmother make traditional Latin American foods. When Abue gets a headache and takes a nap, Arturo sets the table and comes to the rescue by improvising some ingredients in the kitchen. The loving warmth of the characters comes through in the soft-colored illustrations. In addition to the text in English and Spanish, there are illustrated recipes in both languages for the foods mentioned in the story and a glossary for the italicized Spanish words. Readers will enjoy this book in either language, especially if they can connect with the experience of preparing food with a grandparent or favorite relative. Author's Note. Glossary.

Esther Spear,
School Library Connection


"A special warmth clearly binds Arturo and Abue Rosa and suffuses text and charming illustrations. The palette makes heavy use of ochre, giving the book a Southwestern feel...

VERDICT A sweet portrayal of family bonds that's best shared one-on-one."

~Lucia Acosta, School Library Journal

"The interaction between Abue Rosa and her young grandson is comfortable and loving as they go about preparing pupusas. Lewis' warm palette cocoons the characters in manifest familial love. Fans of uncomplicated, familycentric stories won't be disappointed."

​ ~ Kirkus review

You can order your copy of

ARTURO AND THE BIENVENIDO FEAST

from:

•your favorite

independent bookstore

(

www.indiebound.org

)

•www.pelicanpub.com

, and

•other online retailers.

​

​

​