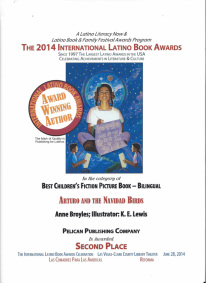 ¡Qué honor!
ARTURO AND THE NAVIDAD BIRDS was awarded
Second Place
in the International Latino Book Awards for "Best Bilingual Children's Fiction Picture Book." These awards represent 18 countries and three languages (Spanish, Portuguese, English). The Awards are produced by
Latino Literacy Now
, an organization co-founded by Edward James Olmos and Kirk Whisler, and co-presented by
Las Comadres para las Americas
and
Reforma
, the National Association to Promote Library and Information Services to Latinos.
Here's a list of al
l the winners.
​
​
---
You can order your copy of

ARTURO AND THE NAVIDAD BIRDS

from:

•

your favorite independent bookstore (www.indiebound.org)

•www.pelicanpub.com

, and

•

other online retailers.

KIRKUS REVIEW September 1, 2013
A boy named Arturo decorates the Christmas tree with his grandmother, Abue Rosa, in this bilingual English/Spanish story.

As Arturo unpacks their box of ornaments, Abue Rosa explains the origin of each tiny family heirloom. Some are from her childhood; some were made by family members; others were gifts from friends. When Abue Rosa goes to the kitchen to check on dinner, Arturo unwraps a glass bird. As he runs and plays with the ornament, making the bird seem to fly, the glass bird hits the wall and breaks. Arturo unsuccessfully attempts to repair the bird and then tries to make amends by making a new, pine-cone bird for his grandmother. When he tearfully confesses to the broken ornament, his grandmother kindly comforts him and tells him the new bird ornament will remind her both of her grandson and of her friend who gave her the glass bird. Soft-focus illustrations create a dreamy quality, with scenes depicting the family stories for each ornament in paler hues in the backgrounds. The story is warm and sincere, with genuine emotions conveyed in the little boy's attempt to make amends and his grandmother's loving resolution to an unfortunate accident.

An understated but solid story portraying strong family ties between grandmother and grandson. (Picture book. 4-8)

SCHOOL LIBRARY JOURNAL REVIEW October 1, 2013
Arturo and his Abue Rosa (grandmother) prepare to decorate their Navidad tree in this gentle bilingual story. As they carefully unpack the ornaments, Abue recalls memories of each one, some of which are from her childhood and some from dear friends and relatives. When Arturo accidentally breaks a precious glass bird (pajarito), he hides it and tries to create a replacement. The boy is wracked with guilt and finally confesses to Abue, who reassures him that people and memories are more important than things. The illustrations... are warm and cozy and a good match for the text. This story has a positive message that is relevant year-round. ( K-Gr 2)

~Madeline Bryant, Los Angeles Public Library